Stories and Poetry
Contemporary Poetry 4

Poems by Cecilia Bustamante



Selected Free Verse Poems by Peruvian-American Poet Cecilia Bustamante.
She is a National Prize Award Poet in Her Native Country: Perú.

---




STIGMATA


Against the sky, against the wall,
somebody has broken my legs, somebody is
in the isolated roads, beware. It happens fast.
Beneath Greco skies alarms go off
in the Gates of Hell.

My senile psychopath teacher
bending on the books
lies open, knowing nothing
but the history of the paving stones.
Wouldn't be possible to hide
in these muddy streets
so the flowers will go wild?
A voice is just asking something
when the sirens go off, the fire bellowing high.

Run, run. Let me into the burning fire
of my fatherland. Bastards like leaves
are trembling, since your mother died.
When is fall coming? It is only winter here.
Where would we all go?

I'll tell you someday where I'm going.
Remember. The bastards on the avant garde,
the rear garde, shooting at our flanks.
What can one person do?
Breaking, growing tall, quivering, getting away,
crying? I wish I could help.

Stigmata in the body of my land,
running down my final tears. Father, do not cry.
We have no heart to. Don't.




---




VAGUELY


Do you remember her?
She had a child, next to nothing.
And a fallen tree looking at the air
frozen treasure.
Its white circles as windows
to be split. Who is so evil?

My blood father, my mother's blood...
Offering her nipple to the one who is killed.
Their Christian daughter running in the fields.
The rain is still falling on many trees,
stroking sad music with its fingers,
drying out within the earth.

The fatherland.
My mother's breasts closing the door.
Please, wait for me. Pull me up.
I want to follow you to the hatred-torn,
enshrouded, pervasive, haunted,
stark, timeless terror -
to briefly find each other
in the land we were born in.
No escape.




---




REMEMBRANCE


Your skin like a melody
falling asleep.
The world
in the shape of your head,
a kiss, a tear, down your hair.
Don't be childish
be my friend blotched with desire,
somber cry on top of the hills,
knocking the door of night.

Would you die for me?
No. I have killed you,
but dance, dance.
It's only a set up. Once upon a time...

I'm sorry if the curtain falls,
quitting early. Who will lock up?




---




REBECCA


The old ship trunk opens its shell
over the frozen lakes of Europe.
You sled
expatriated by forza del destino.
Passion flower of the tropics
floating across the Atlantic,
leaving your heart in Lima.
Leaning your beauty in October,
among its magenta flowers,
you lit the frankincense
clouding the colonial balconies.

The bullfighter running
through the fruity fields
of the haciendas , tientas of aspiring toreros.
Lord of Tremors, marching on.
Woman of incredible treasures,
like in Hugo or Vizconti.
All her life loving, like in a film.
yearning, crawling under grandmother's table
one afternoon, your secret on her lap.
Bore all those kids, handsome and gentle,
those who die young. In some season
I remember your screams
like poisoned clouds,
your teenager's hysterical love.
All in great silence yet
resounding in my mind.




---




VISITING THE RELATIVES


Picking up my cafe au lait
I rather taste some afternoon
when you poured into my memory
among the orange trees.
You were young, we were kids.
Your sister the artist, arranged
the outdoors
with the strangest fruits.
I feel her lonely fingers
and the shining A in filigree.
You all loved Segovia, Zabaleta,
Trotsky, Rivera, and Frida,
Guayasamin, everybody -
even your revolutionary lovers,
who owned you their lives.

You catered at 5:00. I was seduced
by the general beauty.
In silence I felt this poem
forming in my heart.
I fiercely tried to keep the feeling
of those shadowed eyes,
knowing that some day
you would come back
for this moment of your life.
like today, when your picture
looks at me like then,
under the cool air of the mines,
smiling tender and familial
with all my dead relatives in Peru.




---




PIECE FOR A MAN AND A WOMAN


Delirious interpretations of the rose,
grow in a text. A song of virtues,
a song of vices. Centaure Phallique
shines against black. His arrow
spelling polymorphic dances.

Melting lacquer in the wind, spirits
of the paper, the breasts of mountains -
calling, yearning for the sea.
Life Death is in human nature,
all the rivers empty in la mar.

Pieces of aural silence,
portraits of angels go around
opening and closing a book
perforated by a blue monochrome.
Life and Death surviving in the pages.




©Cecilia Bustamante, 2004 - 2005.
---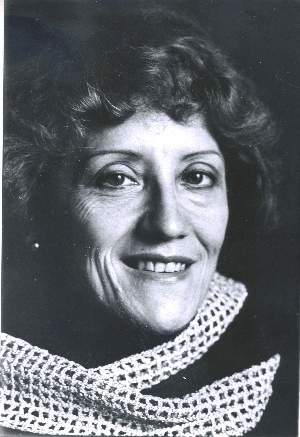 Cecilia Bustamante is a Peruvian-American writer, journalist and professor. Her poetry has appeared in book form, ink and paper magazines and lately on e-zines - in English as well as in Spanish throughout the world. She has been a visiting professor at the University of Texas in Austin since 1973. At present she is writing her memoirs.
Here we present five pieces from her book Mother's Blood. In these mature poems, rich in evocative images that fills our senses, she expresses some of her nostalgia as often happens with people living far away from their homeland. An exemption to this, is Piece for a Man and a Woman. Here the poet distances herself, to better express her feeling of life. She believes in human race and accepts life as we accept the fact that rivers come down to the sea with no options to make them return inland.
For more poems by Mrs. Bustamante (in Spanish), click here.
---
Send feedback!

TOP